Help your students pursue their dreams.
In partnership with Wishbone, Advocates have raised $4,158,601 to send 2176 outstanding low-income students to high-quality summer programs.
Nominate a Student
Join Us In Our Mission
Students are more engaged when they can pursue their passions. Yet low-income students represent less than 2% of enrollment in high-quality summer programs.
We're on a mission to change that. We negotiate scholarships, maintain a database of programs, and provide an online platform for students to crowdfund their education. But we need your help.
All it Takes is One Campaign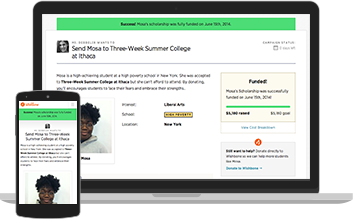 We provide all the tools you need to create a crowd-funded campaign to raise money and send your student to a high-quality summer program.
View an Example Campaign →
Wishbone Makes it Easy for You to Help your Most Passionate Students

It was a big deal for Sarah to overcome her shyness and travel to San Francisco, take college art classes and challenge herself to learn new material. She feels more well-rounded in her art skills, more creative, and more independent and responsible – which is great for her preparation to go to college next year!

My students have re-entered high school with increased confidence and momentum towards college. They were deeply inspired by the friends they made and the faculty they met, and are working hard to make sure they will be eligible to attend these institutions in just a few short years.
Students can choose from over 550 summer programs to attend
Syracuse University

The Johns Hopkins University

iD Tech

Brown University

New York Film Academy

California College of the Arts

Stanford University

Boston University

Outward Bound

US Sports Camps
Frequently Asked Questions
Why are advocates needed?

As someone who knows your students and their personalities best, we rely on your letter of recommendation as we evaluate applications. As an Advocate, you will also help your students gain access to a wider fundraising network by sharing their campaigns with your friends and family.

What will I have to do?

Wishbone Advocates have two responsibilities: 1. Submit a recommendation on behalf of your student 2. Share your student's campaign with friends and family via social media and email to fundraise your student's program costs. Wishbone enables program affordability through exclusive scholarships from program partners and negotiated corporate and foundation sponsorships, which reduces the total tuition costs left to fundraise.