 Ms. Wong-Chen Wants To
Send Melissa to Academy of Art Summer Pre-College Art Experience
Melissa has applied to attend Academy of Art Summer Pre-College Art Experience this summer and is raising funds for her program fees. Can you help?
Melissa
| | |
| --- | --- |
| Interest: | Fine Arts |
| School: | Eastside College Prepatory |
| Location: | |
Melissa's Story
I love all types of writing. I love how I can use multiple words to express myself. I enjoying looking at all types of scenarios given to me and see what comes out of it. For me, writing anything or reading gives me the chance to express myself in a way that I might not be able to do. Looking over the various of works by a variety of authors excites me. Seeing what your mind comes up with is what excites me the most about writing. Imagining the scenes, pictures, etc. in your head excites me about reading. When I am pursuing this passion, I feel really excited because I just can't wait to see the type of work that I produce. I enjoying seeing the work that I thought I could never be capable of doing. Just like how music calms people, having a pen and paper in my hand soothes me. Writing and reading is the activity where I do not have to stress a lot about it. I can just think about ideas and see how the ideas turn up.
I have an interest in attending the Academy of Art because I want to explore the various types of arts. Ever since I was in elementary school, arts and crafts were always my favorite part of class. Now that I am in high school I am mostly doing engineering and computer science electives. I see this summer program as a chance to explore areas that do not fall under the engineering category. I can do the program and see if the area of class I am doing is something that I want to pursue. This program will guide me in seeing if Art is something I want to further pursue. It will expose me to the variety of majors that I will probably want to major in. A Note from Ms. Wong-Chen, Melissa's Teacher
I think Melissa will grow greatly this summer. Most of her electives at school have involved computer science, engineering and technical thinking, yet she has a love for writing and enjoys visual arts. The Academy of Art Pre-College program is the perfect opportunity for her to combine her experiences and interests, as well as explore new possibilities such as animation and visual effects, architecture, game design, graphic design, film, or web design. As Melissa advances through high school,it's important that she have chances to explore possible majors or career fields and this summer will give her such an opportunity.
Campaign Activity
October 6
My summer at Academy of Art
Now that my summer program ended and I started school, I realize I have learned so much from my program. My program was summer classes at the Academy of Art University. I took four classes there. My classes were Screenwriting Basics, Multimedia Advertisement, Video Game: 3D Modeling, and Play DJ and Pod casting on the radio. My favorite class overall was the DJ and Podcast class. I not only learned how to use the software that is used in radio stations, but made my own segments that radio stations have. I made commercials, an artist spotlight, a 4 minute talk show segment, and many more. We also had a field trip to a radio station. I got to meet the people who talk on the radio and the people who work on the software. This has helped me in getting interested in working in the radio business. I am interested in doing internships for radio stations next summer. I would recommend this program to a friend because not only do you learn interesting subjects on a college level, but you also have fun learning it. My advice would be to just be yourself and have fun. Any program that you do will not be as fun if you do not have the right mindset. 
July 29
Doing things I never thought I could!
As the last week at the Academy of Arts continues, I have learned so much. The picture below is my 3D modeling of a minion from the "Despicable Me" movies. I never thought that I would be able to do something like this. It may not be a professional modeling project, but it is a really good resemblance. We have done other projects but I am the most proud of this one. I am proud of this one because it was one of my first designs in my class. As for my other classes, I will keep you posted with the final projects!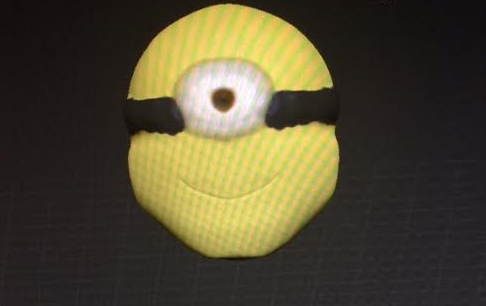 May 6
My first experience taking college-level classes
 I am the most excited about exploring the different types of art classes at Academy of Art University's summer program. I take engineering and computer science classes at my school, and I do not have the chance to take art classes. I am excited to explore the arts because this might get me interested in doing this in the future. The goal that I have set for myself is to put in 100% in all my classes and develop an understanding for the classes. I am the most nervous about how the class runs. This will be my first time doing a college-based elective class. Thank you again for giving me this important opportunity.
April 7
Thank you
Thank you so much for your generosity. I really appreciate support that you are giving me. Thanks to your contribution, I can explore the various art programs offered at the Academy of Arts that also give me a sense of how college classes will be like. Again thank you for the contribution and words do not even describe how happy I am to receive your support.
Success!
Ms. Wong-Chen helped Melissa raise $678
April 7
April 7
An Anonymous Donor matched this donation with $34
Kelly Gilbert
donated $20
April 1
An Anonymous Donor matched this donation with $20
March 28
An Anonymous Donor matched this donation with $25
Brian Belding
donated $25
March 27
An Anonymous Donor matched this donation with $25
Stacy Ishigaki
donated $25
March 26
Your love for reading and writing is contagious. I hope these classes quench your thirst for a wider variety of genres and writing techniques!
An Anonymous Donor matched this donation with $25
Academy of Art University
donated $368
March 18 Ms. Wong-Chen
started this campaign
March 18
Melissa
was accepted into Wishbone!
January 22
Successfully funded on April 7th, 2014!
Fully funded!
Still want to help?
Donate directly to Wishbone so we can help more students like Melissa.
Donate to Wishbone
Donors
| | | |
| --- | --- | --- |
| | Academy of Art University | $368 |
| | Anonymous | $129 |
| | Lisa Sweeney | $35 |
| | Anonymous | $26 |
| | Stacy Ishigaki | $25 |
| | Brian Belding | $25 |
| | Linda Filo | $25 |
| | Kelly Gilbert | $20 |
Special Thanks
Scholarship Provider

Academy of Art University

Matching Donor

Anonymous