 Bobby Bridges Wants To
Send Hillary to Syracuse Summer College Creative Writing: Fiction and Poetry
Hillary has applied to attend Syracuse Summer College Creative Writing: Fiction and Poetry this summer and is raising funds for her program fees. Can you help?
Hillary
| | |
| --- | --- |
| Interest: | Liberal Arts |
| Grade: | 11th |
| School: | Achievement First University Prep |
| Location: | |
Hillary's Story
Creative Writing, to me, is having freedom in what you're writing. Creative Writing makes me feel exhilarated because I can convey my own feelings and include my own ideas in it. I really enjoy Creative Writing because it is extremely different than an analytical essay and I find more motivation when writing something that I am really passionate about. When pursuing Creative Writing I feel free and alive because I can express my own true feelings about a designated topic or an idea. Creative Writing truly makes me feel free about what I write about. Creative Writing makes me feel like I should be more devoted in what I write and I should give it my all with my entire soul. A Note from Bobby Bridges, Hillary's Teacher
Hillary is a bright student limited by exposure to peers that will truly challenge her. Hillary is one of the deepest thinking scholars in our 9th grade class and frequently carries classroom discussions. She is not shy to provide feedback or raise concern should the event arise. Although Hillary is doing well in school, I believe that she is capable of higher achievements. Our scholars are strong in many subjects and skills, but I find that few of them really challenge Hillary, especially in discussions. Hillary would be a great participant for the Syracuse program because of her ability to challenge peers thoughtfully and ability to accept feedback. Hillary will be positively challenged by the rigor in these courses and will rise to the occasion, especially while surrounded by like- motivated students. I know that the experience being away from home will also benefit Hillary and allow her to more deeply reflect as she is in a new environment.
Campaign Activity
July 31
New experiences at Syracuse University
On my first day of my summer program at Syracuse University, I was scared and nervous. It was hard for me because I'm always with my parents, but now, I feel more independent after being on my own. I'm already four days into my program and it has been an amazing experience so far. I'm getting to know different people from all over the country. The Creative Writing Program has been my favorite so far, and I love the teachers too. One thing that has surprised me is that Syracuse University is an open campus, but it is really safe and quiet. The picture is our group floor called "The Floor Wars".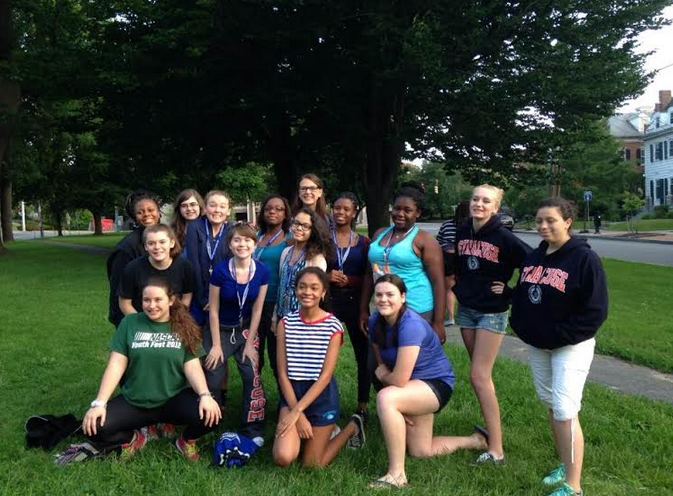 June 20
Excited to step out of my comfort zone at Syracuse
What I am extremely excited about is the fact that I'm actually going to attend Syracuse University for my Freshman Summer College experience. I think this will positively impact my future decisions and my future decisions as a rising Sophomore. While I attend Syracuse University for my Creative Writing course, I really want to meet new people without being really shy so my communication skills can improve. I'm really nervous about spending two weeks without parental supervision because I'm extremely used to being taken care of by my parents. This experience will truly teach me how to be independent and on my own. A challenge I might face when I'm at the program is probably coping with being without my parents since I'm extremely dependent on them. I will positively overcome this by becoming more independent during my experience. I also have to be more outgoing and extroverted in order to meet new people. 
June 14
Thank you
Thank you so much for making my dream come true. Thank you so much for your generosity and graciousness to make this all possible for me. Thanks to you, I'm able to pursue and study my passion, Creative Writing, at Syracuse University this summer. Your donation will allow me to become more skilled in my writing and will allow me to incorporate creative ideas into my analytical essays. Not only will Creative Writing at Syracuse University help out my writing, but it will also help me to become more independent in life. I am extremely grateful for your contribution, thank you once again.
Success!
Bobby Bridges helped Hillary raise $2,680
June 14
Syracuse University
donated $750
May 16 Bobby Bridges
started this campaign
May 16
Hillary
was accepted into Wishbone!
May 9
Successfully funded on June 14th, 2014!
Fully funded!
Still want to help?
Donate directly to Wishbone so we can help more students like Hillary.
Donate to Wishbone
Donors
| | | |
| --- | --- | --- |
| | Anonymous | $1,682 |
| | Syracuse University | $750 |
| | Jason Foral | $248 |
Special Thanks
Scholarship Provider

Syracuse University

Matching Donor

Anonymous