Ms. Ewing Wants To
Send Kamryn to FIT High School Summer Live
Kamryn has applied to attend FIT High School Summer Live this summer and is raising funds for her program fees. Can you help?
Kamryn
| | |
| --- | --- |
| Interest: | Design |
| School: | Uncommon Charter High School |
| Location: | |
Kamryn's Story
I am applying to go to the FIT High School Summer Live program because I want to get a better understand of fashion in general and experience the classes before I make into a career. I've been interested in fashion, specially fashion journalism and styling, since the 7th grade. I've also never taken a fashion class at FIT or any other fashion related school so I think it will be an exciting experience for me around the summer. This program will help me build up my career because it will give me a head start on my career, it will give me some experience, and it will attract colleges when applying to college in the next 3-4 years.
A Note from Ms. Ewing, Kamryn's Teacher
I think Kamryn is a perfect fit for this program. She's creative and unique and would really benefit from having an outlet to express herself artistically.
Campaign Activity
September 11
A Memorable Summer at FIT
During my time at FIT, I had an amazing experience. I was able to learn a lot more about fashion as well as create many creative projects in my classes. Thank you to all of my donors who made this time at FIT very memorable for me. I am very happy to have had this experience this summer and I could not have done it without your help.
This is one of the collages I created during my class.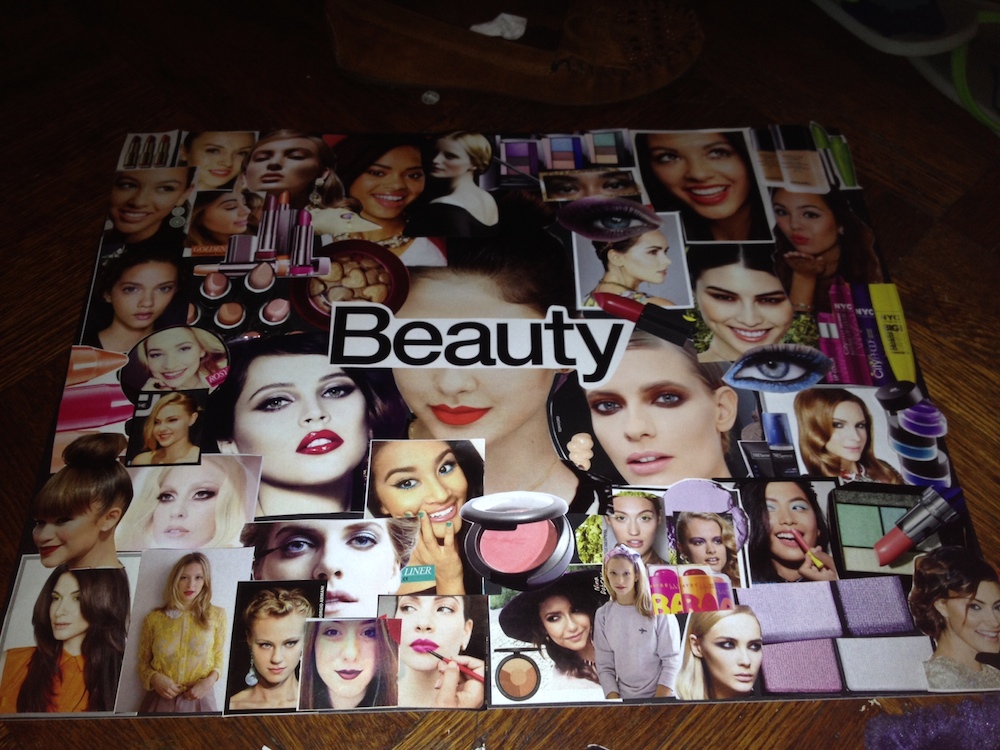 July 14
Excited to learn about fashion design at FIT this summer
I am most excited about my overall learning experience at FIT.  I can learn more about fashion styling, merchandising, etc. While I attend, not only do I want to learn a lot about the different fields within fashion, but I also want to get a "feel" of what a college class will be like. Also, in the end of my program, I hope to know what I specifically want to make a career out of in my future, relating to the fashion classes that I take this summer. I am slightly nervous about meeting new people.  However, most likely everyone in my classes will share the same interests in fashion, so there will be no problem for us to find common ground. I don't think that I will face any major challenges during my program. If I do run into any road bumps, I plan to remain optimistic about the situation so that I can deal with it in the most positive way possible.
June 18
Thank you
I would like to thank each and every one of you for contributing to the cost of my FIT summer program! With your help, I will be able to learn more about fashion and get hands on experiences with my possible future careers. This program will also help me stay occupied during the summer, by doing something that I am very interested in. Thank you once again!
Success!
Ms. Ewing helped Kamryn raise $661
June 18
Avril Belfon-benn
donated $50
June 18
An Anonymous Donor matched this donation with $50
June 18
An Anonymous Donor matched this donation with $200
Ms. Ewing
started this campaign
June 7
Kamryn
was accepted into Wishbone!
May 12
Successfully funded on June 18th, 2014!
Fully funded!
Still want to help?
Donate directly to Wishbone so we can help more students like Kamryn.
Donate to Wishbone
Donors
| | | |
| --- | --- | --- |
| | Anonymous | $250 |
| | Greg Prince | $200 |
| | Anonymous | $162 |
| | Avril Belfon-benn | $50 |