 Send Adrian to iD Tech Camps Connecticut
Adrian has applied to attend iD Tech Camps Connecticut this summer and is raising funds for his program fees. Can you help?
Adrian
| | |
| --- | --- |
| Interest: | Technology & Engineering |
| Location: | |
Adrian's Story
In only his first year of high school, Adrian already has a passion for digital animation and game design. He's eager to get some specialized instruction in these subjects at iD Tech Camp in Berkeley this summer.
Campaign Activity
September 10
Fun at iD Tech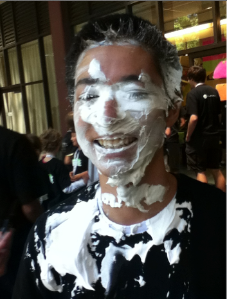 On the last day of camp, there was a raffle competition to see who would get to "pie" one of our instructors. Unfortunately, I didn't win but it was still fun to see him get pied!
August 2
Producing a Short Film
While I'm at iD Tech Camp I hope to learn how to design a short animated film. My main goal is to produce my own short film by the end of the program. I will also try to understand everything that I do there so that I can bring my skills back home. By attending this program I'm taking one step closer to achieving one of my lifelong goals, which is to have a career as a digital filmmaker.
Success!
Adrian's campaign raised $1,538
July 22
July 22
Have an incredible time at ID Tech Camp! Stay focused and follow your dreams!
July 10
Enjoy yourself and don't stop chasing after your biggest dreams! Best of luck :D
July 10
I hope you find your passion and stick with it. Good luck!
Marcie Bertram
donated $25
July 9
Adrian,
I believe this experience will be an awesome one! Enjoy every minute of the camp and continue to pursue your passion. After watching your video, I have no doubt you will be successful in life!
Bless you...
Marcie
San Carlos Calif.
Louise Johnson
donated $1,000
July 9
Adrian, I hope this donation will enable you to reach your funding goal. I know you can learn digital design skills to excel and find a career path you will be proud of.
Louise
Tyler Peterson
donated $10
July 9
Successfully funded on July 22nd, 2012!
Fully funded!
Still want to help?
Donate directly to Wishbone so we can help more students like Adrian.
Donate to Wishbone
Donors
| | | |
| --- | --- | --- |
| | Louise Johnson | $1,000 |
| | Wayee Chu | $383 |
| | Todd Sherman | $50 |
| | Anonymous | $25 |
| | Marcie Bertram | $25 |
| | Julie Meloni | $25 |
| | Tyler Peterson | $10 |
| | Anonymous | $10 |
| | Maria Anaya | $10 |