Ms. Theis Wants To
Send Marco to Harvard Pre-College Program
Marco has applied to attend Harvard Pre-College Program this summer and is raising funds for his program fees. Can you help?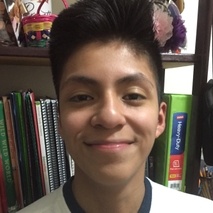 Marco
| | |
| --- | --- |
| Interest: | Liberal Arts |
| Grade: | 10th |
| School: | Uncommon Charter High Scool |
| Location: | New York City, New York |

Marco's Story
My passion is biology.
Biology and science in general have always been a subject I truly enjoy. There is not one experience or moment that I can recall as significant or that stands out because I have enjoyed every moment I learn about science. I had passion for science since first grade, when I participated in science fairs and tried to read as much as I could about science. I loved reading about anything from dinosaurs to bacteria to plants; and eagerly sharing these facts to my parents and siblings. Although I don't watch much TV, when I am, I'm most likely watching documentaries or educational programs on Discovery or National Geographic. I find astonishing the level of complexity life has, and sometimes I wonder if the existence of such life is possible. Biology is nothing short of amazing and I am devoted to learn as much about it as I can.
The Harvard Pre-College Program will, without a doubt, improve my understanding of biology because I will be taught by the best. I will have access to material and knowledge about biology I don't entirely have in my high school. Learning biology from class handouts and videos is certainly not the same thing as a hands-on experience. Greater education will allow me to have a stronger grasp on the subject, letting me contribute more to my science classes and granting me a head start in the field I hope to specialize in for the future. Law has been something I've consider as a career but it has never brought the same feelings and effervescence I have for biology. I would much rather pursue an uncertain but fulfilling career than pursue a career that promises money, safety, and living the rest of my life regretful and ravenous for what I could have had.

A Note from Ms. Theis, Marco's Teacher
Marco is an excellent candidate for the Harvard Pre-College Program because he is beyond ready for the challenge and opportunities a summer in Cambridge could confer. Although I know him best from the English class he took with me last year, I can understand from that course why Marco would be hungry to study the sciences. I remember his mind incessantly probing. He could master a structure for writing synthesis essays or memorize a vocabulary list with ease, but he always paired his quick learning with a list of questions. His predilection for inquiry made him stand out in our class last year. The intellectual community of Harvard would provide the perfect nesting grounds for his rapidly expanding mind and identity.
It is this inquisitive intellect matched with his character that makes Marco both an essential candidate for the program, and someone who would deeply benefit from it.
Campaign Activity
Adam Jernigan
donated $25
March 21
What a bright and hard-working student. I'm so proud of you, Marco!
Marie McDonough
donated $25
March 21
Katarzyna Bartoszynska
donated $25
March 20
Daniela Uribe
donated $25
March 20
Good luck! You're awesome!
Peyman Allahvirdizadeh
donated $35
March 19
Francine and Ethan Royce
donated $250
March 19
March 19
So excited for you to explore your dreams!
Gabriela Weldon
donated $10
March 19

Harvard University
donated $2,250
March 12
Student Contribution
donated $99
March 12

Ms. Theis
started this campaign
March 12

Marco
was accepted into Wishbone!
December 22
100% of donations fund scholarships
Donate
$3,264 raised
$1,386 to go
Donors
| | | |
| --- | --- | --- |
| | Harvard University | $2,250 |
| | Francine and Ethan Royce | $250 |
| | Anonymous | $200 |
| | David Theis | $100 |
| | Student Contribution | $99 |
| | Aliza Theis | $50 |
| | Sophie Theis | $50 |
| | Drew Fink | $50 |
| | Peyman Allahvirdizadeh | $35 |
| | Bianca Arce | $25 |
| | Daniela Uribe | $25 |
| | Jenny G | $25 |
| | Katarzyna Bartoszynska | $25 |
| | Marie McDonough | $25 |
| | Adam Jernigan | $25 |
| | Jessie Wyatt | $20 |
| | Gabriela Weldon | $10 |
Special Thanks
Scholarship Provider

Harvard University