 Send Lenaisha to National Young Leaders State Conference (Boston)
Lenaisha has applied to attend National Young Leaders State Conference (Boston) this summer and is raising funds for her program fees. Can you help?
Lenaisha
| | |
| --- | --- |
| Interest: | Leadership |
| Location: | |
Lenaisha's Story
Being able to provide help for young people throughout my community excites me. When I am pursuing this passion of mine, I feel accomplished and happy.
I have had an interest in helping others since I was young. I have been through a lot emotionally and haven't always had someone by my side. This encouraged me to want to help others get through tough times. I want to have and form a better understanding of people's emotional thoughts, and I feel the best way to do so is by becoming a therapist. The role of being a therapist requires a lot of leadership skills, which the National Young Leaders State Conference can provide. We will be working full time on developing those skills.
My commitment and determination set me apart from other students. I am a scholar with many goals and dreams that I am fighting to achieve. By going to this conference, I feel I will have the opportunity to finally enrich my skills and learn. A Note from , Lenaisha's Teacher
In the two years that I have known Lenaisha, I have been extremely impressed with her tenacity and follow-through on goals that she sets for herself. She has a lot of natural leadership abilities that will benefit greatly from being honed and strengthened.
Lenaisha is an intelligent and outgoing young lady with enormous leadership potential. She has made tremendous progress over the past two years and I think participation in a program like the National Young Leaders State Conference would help her stay motivated and set even higher goals for herself.
Lenaisha is a wonderful young woman who deserves the opportunity to continue her growth as a leader.
Campaign Activity
Lenaisha
posted an update
February 2
Learning practical leadership skills
At the National Young Leaders State Conference, all the topics we covered were based on how to become a better leader.  We were taught how to handle ourselves in different situations, and when, where and how to use our voice. We learned how to branch out and provide ourselves with different opportunities. We learned how to work as a team and deal with diversity (race, sexuality, disabilities etc.) Last but not least, we learned how to set realistic goals and make good decisions.
I've been told many times that I'm a great leader. However, I could never master handling problems when I wasn't in control. By attending the National Young Leaders State Conference, I learned that good leaders know when and where not to follow. I learned how to give advice and be an active listener. Each and every day when in a challenging situation or obstacle, I think about the many skills I learned to help me lead myself on a better road. I've also decided to use the lessons taught at the conference for my student body to help them become better leaders.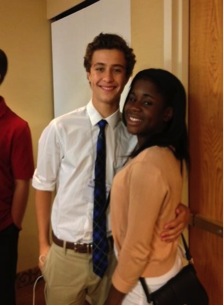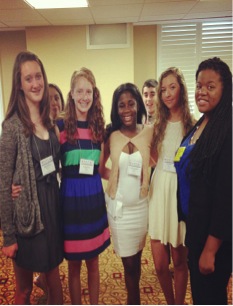 Lenaisha
posted an update
January 27
Thank you
I am truly honored that you are expressing interest in me and wish to donate money to help me attend the National Young Leaders State Conference. This is a very rare and special opportunity for me. I look forward to embracing this chance. It truly means the world to me that you are willing to support my interests. Thank you from the bottom of my heart!
Success!
Lenaisha's campaign raised $1,849
January 27
Pamela Resnick
donated $240
January 27
January 12
You can do this Lenaisha :)
Victoria Prothero
donated $50
January 10
Lenaisha, I wanted to help because I think what you are trying to do is awesome. I pray God blesses you with everything you hope to accomplish and you are able to be more than you ever thought you could be and do more than you ever thought you could do. With His help, all things are possible. In Jesus name, Vicki
Abby Anderson
donated $50
November 18
Sonia McFarland
donated $50
November 18
Patrick Berkeley
donated $25
November 8
Willo Radgens
donated $30
October 29
Lolita Reichbach
donated $100
March 10
March 8
Lenaisha. I wish you all the best. It takes a lot of courage to ask for what you want & I respect you for doing so.
Lauren Hoagland
donated $25
March 7
Ms. Hill Hill
donated $50
March 7
March 7
i am so proud of you LALA! Ive always told you were destined to be a leader and now you are on your way. Its just the beginning but i have faith in you that you will make us all proud. keep up the good work .
Ya boy Hicks
Jonthon Coulson
donated $24
March 6
I was away for two years, and have been repeatedly impressed by how much you have grown. Your message to donors was spot-on - encourage and inspire you to keep making the kinds of positive decisions you have been making I shall!
Rock on,
Coulson
Michael Duque
donated $150
March 6
Lenaisha,
You rock! I am so excited to see you working towards excellence! Keep it up, I know you're going places.
You down with 8GT? :)
-- Mr. Duque
Casey Miskowski
donated $25
March 6
I believe in you!
- Ms. Miskowski
March 6
Hey Ms. Lenaisha! If any high school student on the planet deserves this, it's you! I'm rooting for you big time.
Sending lots of love, encouragement and good vibes your way!
Ms. Fram
Congressional Youth Leadership Council
donated $500
February 6
Successfully funded on January 27th, 2014!
Fully funded!
Still want to help?
Donate directly to Wishbone so we can help more students like Lenaisha.
Donate to Wishbone
Donors
| | | |
| --- | --- | --- |
| | Congressional Youth Leadership Council | $500 |
| | Pamela Resnick | $240 |
| | Michael Duque | $150 |
| | Anonymous | $100 |
| | Lolita Reichbach | $100 |
| | Anonymous | $100 |
| | Michelle Yun | $70 |
| | Lindsay Fram | $50 |
| | Ms. Hill Hill | $50 |
| | Rachel Beck | $50 |
| | Sonia McFarland | $50 |
| | Abby Anderson | $50 |
| | Adam Ross | $50 |
| | Victoria Prothero | $50 |
| | Willo Radgens | $30 |
| | Casey Miskowski | $25 |
| | lewis hicks | $25 |
| | Lauren Hoagland | $25 |
| | Patrick Berkeley | $25 |
| | Ellen Woods | $25 |
| | Anonymous | $25 |
| | Linda Fisher | $25 |
| | Jonthon Coulson | $24 |
| | Anonymous | $10 |
Special Thanks
Scholarship Provider

Congressional Youth Leadership Council