 Send Jose Luis to Academy of Art Summer Pre-College Art Experience
Jose Luis has applied to attend Academy of Art Summer Pre-College Art Experience this summer and is raising funds for his program fees. Can you help?
Jose Luis
| | |
| --- | --- |
| Interest: | Fine Arts |
| Location: | |
Jose Luis's Story
I have had an interest in architecture since I was in the first grade when my teacher poured a box of Legos and Jenga in front of me and said, "Have fun." Since then, I have been making different models for buildings on the computer, but I want to expand my learning and creativity at a higher level.
Ever since I was a child, learning about how structures from buildings to skyscrapers are made intrigued me because I felt that there was a lot of room for innovation. I recall constantly building and destroying my model buildings, because I wanted to create something new every time. Whether making the base of my buildings stronger or making the top of the buildings quirkier, I always felt my designs and creativity should be challenged.
I want to understand the making of a blueprint and practice my skills for scaling or drawing, so that in the future if I were presented with an opportunity to practice my design skills, I would be prepared. The Academy of Art University of San Francisco is the best program for me because it is a place where creativity strives and because I can learn how to make positive change. Using my creativity to contribute positively to my community around school and home is my passion because it is fun. A Note from , Jose Luis's Teacher
Jose Luis is ambitious, follows through, and carries others along with him. He manages his time to get things done and achieves what he sets out to accomplish. He is responsible and communicative. When he learns, he shares that knowledge with others. His enthusiasm to learn about engineering, acting, French cuisine, and so many other topics is infectious. He consistently gets onto the Dean's List. It's no wonder he makes such a strong leader in clubs and classes.
Jose Luis would grow so much from this opportunity! He really wants to explore architecture and deepen his understanding of design concepts. As someone very scientifically-minded, design classes from an art institution may loosen up his creativity.
Campaign Activity
Jose Luis
posted an update
July 7
Off to College!
I wanted to update you to let you know that I will be going to college next year! I will be attending Bates College where I will study Entertainment Business or Non-Profit management. I want to thank you again for supporting me last summer in attending the Academy of Art Pre-College Summer Program.  I can't wait to continue working hard as a college student. Thank you again!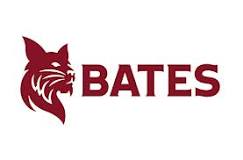 Jose Luis
posted an update
January 2
Exploring design and architecture at the Academy of Art
As I rode in on BART around 7 in the morning, my leg was shaking to and from, because I was jittery to find out what my day would be like. I walked into the fashion building to arrive at my Introduction to Textiles and Knitwear class. I arrived to a room that was brightly lit and a lot of people sitting around a table. Everyone looked very different from each other and I loved it. There was a girl from Napa with purple hair and another girl from Florida with red hair and pink nails. Each of us had different interests and purposes for joining the class. 

We were split into two groups and I stayed in the knitwear class. The teacher instructed us through the process of how to use the knitting machine. My big fingers made the hooks look very small next to my hand, which made it a bit challenging to create something. Honestly, the first day was frustrating because I kept messing up and did not finish my scarf; I ended up with an unfinished swatch.
As I waited in front of the fashion building for the shuttle bus, I was really excited to find out what my architecture class would be like. When I got to the building, I was amazed to see what a creative place it was. Open and airy, I could see how inspiration can be endless. I was immediately excited for my classes. I sat down and the first thing we did was go outside of the building and we drew for around three hours. Granted, I did not know how to draw and most of my sketches were interesting, but I had a lot of fun. After the class period was done, I spent some time after class learning some tips on how to draw, and I got better.
I was really surprised to observe how much dedication and skill it takes for a person to hone a talent of the art. For example, in my architecture class, I dedicated a lot of time to the drafting of drawings of buildings that surrounded us. Each detail consumed a large amount of time that allowed me to hone a certain skill in architecture design. In my introduction to textiles and knitwear class, I had a really difficult time trying to create projects since I needed to be better with my hands in order to create excellent detail and procedure. It is difficult to learn, but once I had it down, nothing could get in my way. 
From this experience, I hoped to learn if I am interested in Architecture or Design, and if I liked other forms of art, like acting. What I found out about my experience is that I think that I would want to be something like an architect when I go into the professional world. I don't think that it necessarily has to be "Architecture" but maybe Urban Planning or Construction Management. 
I would definitely recommend the Academy of Art to a student who is interested in the fields that this college offers because it takes the learning that we have at school about the arts and heightens the experience. It is great for students who also want to understand how college professors teach because it was drastically different than in high school where the schedule is more rigid and teachers are more involved academically in the instruction.
Here are some pictures from my experience:
This is what my desk looked like for my Introduction to Architecture class at the Academy of Art. I was working on a scaled drawing of a view in the building itself: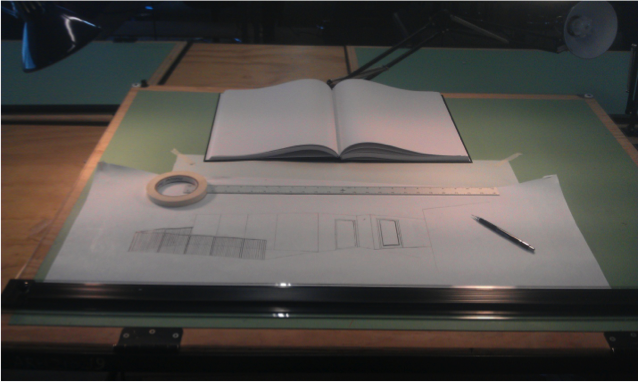 These were my two Architecture instructors: Samuel Mathau and Alberto Bertoli. They taught me a lot about not only the art of Architecture but about the art of perseverance and hard work: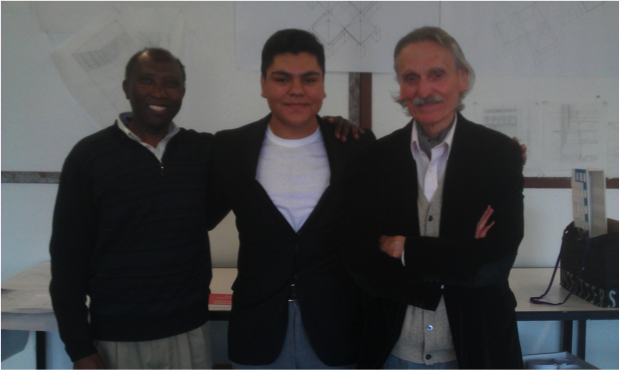 Jose Luis
posted an update
October 25
Thank you
I want to thank you so much for funding my summer experience. Without your contribution, I wouldn't be able to participate in my amazing summer program. I always use my summers to explore new horizons and careers, and this summer is no different. I want to see what it is like to study architecture through art and mechanics. Again, I appreciate your contribution.
Success!
Jose Luis's campaign raised $677
October 25
Patrick Berkeley
donated $25
October 25
Jonathan Baudanza
donated $17
October 25
Brent Mitchell
donated $15
October 25
francisco medina
donated $10
October 25
Michael Polansky
donated $25
September 3
Academy of Art University
donated $525
February 6
Successfully funded on October 25th, 2013!
Fully funded!
Still want to help?
Donate directly to Wishbone so we can help more students like Jose Luis.
Donate to Wishbone
Donors
| | | |
| --- | --- | --- |
| | Academy of Art University | $525 |
| | Michael Polansky | $25 |
| | Lance Troxel | $25 |
| | Patrick Berkeley | $25 |
| | Shawn Borsky | $25 |
| | Jonathan Baudanza | $17 |
| | Brent Mitchell | $15 |
| | Jack Cheng | $10 |
| | francisco medina | $10 |
Special Thanks
Scholarship Provider

Academy of Art University