 Ms. Quigley Wants To
Send Nicole to Syracuse Summer College Creative Writing: Fiction and Poetry
Nicole has applied to attend Syracuse Summer College Creative Writing: Fiction and Poetry this summer and is raising funds for her program fees. Can you help?
Nicole
| | |
| --- | --- |
| Interest: | Liberal Arts |
| Grade: | 11th |
| School: | The Young Women's Leadership School of Astoria |
| Location: | |
Nicole's Story
My goal is to become an investigative journalist and what better place to learn the craft and hone my skills than the prestigious Newhouse School of Public Communications at Syracuse University. As an investigative journalist, I hope to research and document the injustices of women and children around the world. I understand that Newhouse offers a variety of journalism programs, from advertising to broadcast journalism. While I plan to focus on news and online journalism, I believe that it would be beneficial to study all types of journalism in order to be both a stronger journalist and a more well-rounded person. The Summer College Program at Newhouse will afford me the opportunity to prepare for the challenging and complex world of journalism.
Syracuse University's public communications school, Newhouse is known to be the best journalism school in the country. Through this program, I will be a student of Newhouse and I will learn from some of the best journalism professors, which makes this program different from others. This program will also give me the chance to be a part of a liberal arts course at Syracuse University. Therefore, I will be earning college credits from two college classes, I am going to be more exposed to the environment at Syracuse and I know I am going to get such a great learning experience. A Note from Ms. Quigley, Nicole's Teacher
As the driven student she is, I know Nicole will take full advantage of every opportunity she is given and will soak up all the information she can while at the program. I believe this opportunity will help cement her goal of becoming a journalist by giving her some more in depth experience in the field and showing her what a college journalism program is about. I believe Nicole will excel in this program. As she is very interested in applying to the Newhouse School of Public Communications, this would be a valuable glimpse of what the program would be like for her. As such, I am positive that she will be an active participant throughout the program and spur her fellow classmates to do the same.
Campaign Activity
December 18
Accepted to Syracuse University!
Yesterday, I found out I was accepted early decision to Syracuse University! Thank you all so much for helping me to attend their summer program this past summer. I loved being there this summer and can't wait to be a college student at my dream school. I cannot thank you all enough! Happy Holidays!
August 12
Advice to future SU Students
I would first like to say that I absolutely loved being at Syracuse University and I hope to be part of the class of 2019. I also want to thank Wishbone, my donors, and my advocate for making this all possible!  My advice to anyone who is attending Syracuse University Summer College program would be to use the resources around you because it will be a huge help when you actually get to college.  If Syracuse University is your #1 school choice, learn everything there is to learn about Syracuse. I would suggest exploring places like South Campus, Armory Square, Destiny USA, and many more. The university has a huge campus and is part of a magnificent city. For those who want to be a full time student at Syracuse, you should explore and discover all of it!  I learned it is important to go see you professors during their office hours to talk to them about your papers, their experiences, and more. They are a great resource. Be sure to use all of the time you have now to become a better student because you want to be ahead when you actually get to college. You can also ask your professors for recommendation letters, which is an excellent bonus on a college application.  The last thing I learned and would recommend to a future student would be to talk to as many people as possible. Be sure to make connections, friends, memories and have a great time!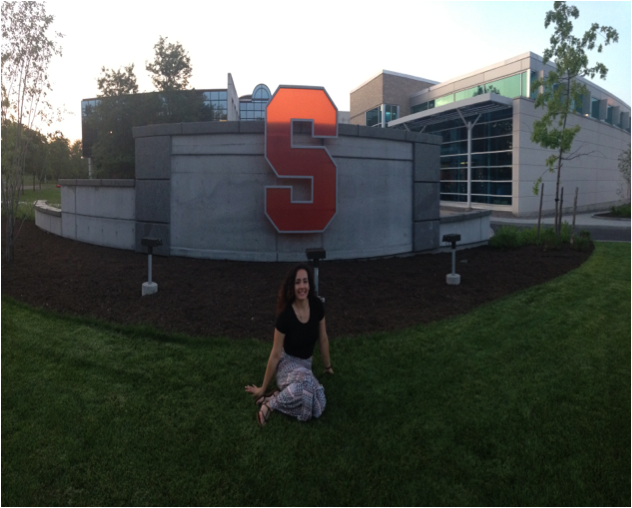 July 28
Loving my summer at Syracuse College!
This summer, I am taking two courses at Syracuse University. There are only 500 students on campus this summer, however during the school year, there are more than 15,000 undergraduates and graduates. Therefore, the campus is huge! I love walking through the beautiful grounds to my classes and I learn something new about the history of each building everyday. For example, in the photograph I am sitting in front of The Hall of Languages, which is the oldest building at Syracuse! To continue, I have 47 students in my program, which is completely different from my high school classes. I attend a very small school therefore, I only had up to 20 or 25 students per class. Being in a room with so many different opinions intimidated me at first; however, I grew accustomed to evaluating everyone's thoughts and being comfortable with sharing my own. Lastly, I am not a part of any clubs and I usually do not attend any events at my high school because I am a rower and I am very dedicated to practice. But I joined the Social Club at Summer College and we plan all of the events that occur in our hall. At our latest event, we were able to get a photo booth- it was a huge hit!
I am experiencing new things here everyday and I absolutely love being here at Syracuse University. Thank you Wishbone and to all of my donors for making this all possible!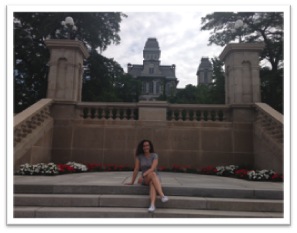 June 18
Excited for my summer at Syracuse
I am very excited to attend Syracuse University this summer! I will be taking two classes this summer, Media Literacy, Popular Culture and Democracy and Introduction to College Level Writing. I am most excited for my first class because I will examine media literacy and popular culture around the themes, youth, schooling and popular culture. I have many opinions about the media's influence on people and I believe that this class will greatly benefit me since I want to become a journalist in the future. Through my second class, I will be exposed to the type of writing college freshman are required to complete at Syracuse. I am most nervous about this class because I think it is going to be difficult for me to transition into college level writing. My goal is to really impress my professor and take advantage of any feedback that he/she may give me. 
June 14
Thank you
I want to thank you for giving me the opportunity to attend a summer program at Syracuse University! I really appreciate your generosity and support. I am very grateful for you giving me this opportunity because my family cannot financially support me to send me to this program. My dream is to attend Syracuse University as a college student and major in journalism at their Newhouse School of Communications- I believe that this program will give me a head start in reaching my dream. Thank you all so much! I would not be able to do this without you.
Success!
Ms. Quigley helped Nicole raise $7,940
June 14
Richard Doyle
donated $100
May 19
An Anonymous Donor matched this donation with $100
Elizabeth Doyle
donated $50
May 17
An Anonymous Donor matched this donation with $50
May 16
An Anonymous Donor matched this donation with $25
Syracuse University
donated $4,140
May 16 Ms. Quigley
started this campaign
May 16
Nicole
was accepted into Wishbone!
March 24
Successfully funded on June 14th, 2014!
Fully funded!
Still want to help?
Donate directly to Wishbone so we can help more students like Nicole.
Donate to Wishbone
Donors
| | | |
| --- | --- | --- |
| | Syracuse University | $4,140 |
| | Anonymous | $2,650 |
| | Jason Foral | $800 |
| | Anonymous | $175 |
| | Richard Doyle | $100 |
| | Elizabeth Doyle | $50 |
| | Patti Doyle | $25 |
Special Thanks
Scholarship Provider

Syracuse University

Matching Donor

Anonymous