 Mr. Routhier Wants To
Send Amy to Experiment in International Living
Amy has applied to attend Experiment in International Living this summer and is raising funds for her program fees. Can you help?
Amy
| | |
| --- | --- |
| Interest: | Leadership |
| School: | Brooklyn College Academy High School |
| Location: | |
Amy's Story
I've always enjoyed helping others. I love the feeling I get when I know that I've made someone happier. It warms my heart to know that someone appreciates what I've done for them. For example, when I was in 8th grade, I went to a toy drive with my dad and donated a lot of clothes to orphans. I know there are many unfortunate people in the world and I just want to be able to help them out in any way possible. I also love traveling. Being able to travel lets me experience different cultures and gives me a better sense of the world. Being able to travel helps me to understand more about the world so I know how I can help others in the future. A Note from Mr. Routhier, Amy's Teacher
Amy is off to do GREAT things. She has a 4.0 average at our school in spite of a super-difficult work load, and she emerges as a leader in all settings. She was a top student in our AP World History class, and performs similarly in both classroom and co-curricular settings. As she moves out into the world, both in college and in future leadership positions, she'll need to further develop passions and relationships that are different from the ones she already has. Being in an extracurricular program will no doubt prepare her on her journey.
Campaign Activity
August 4
An overall amazing time in Spain!
Spain was fantastic!!! I didn't want to leave! After Madrid, we visited Guadix for 13 days. There, we took flamenco and ceramic classes. We learned about the different variations of flamenco and its origin. One of our group leaders happened to be a professional flamenco dancer, so he helped us out a lot while learning the dances and the history. In ceramics, we created the infamous Cuevas and recreated the Guernica made by Picasso. All of our teachers were extremely nice and caring. They greeted us with open arms and constantly took care of us. Our teachers grew to be really close to us. I saw them as my aunts. We also had 5 native Spaniards our ages to show us more of Guadix. All of the guys were sweethearts and always made sure we were safe and had a good time. We had a 4th of July party on a rooftop with a gorgeous view and fireworks, which can be seen in the first picture. In Guadix, we went to a flamenco show in a gypsy town and I ended up having a blast. It was great learning about new cultures and teaching people about the American culture as well. The food in Guadix was absolutely amazing!! I tried paella and ate ice cream with gofres (waffles) almost every day! In our last day in Guadix, we had a flamenco performance and many locals came to see us. Our group after the performance can be seen in the second picture. After Guadix, we went to Granada for 10 days for our home stay. We lived with Spanish families to emerge completely in the culture. I loved my host family! My parents were absolute sweethearts and went out of their way to take care of me and make me feel comfortable which I greatly appreciate. My host sister was the best! She always made sure I had a fun time and made sure we hung out all the time. She carried me everywhere with her friends, which helped me to really emerge in the culture. In the last photo, me and my host sister Lucia went to the carnival with her friends. We met up with the group every morning for different activities like going to the beach and hiking and visiting different places. We visited an interactive science museum known as El Parque de las Ciencias. We also visited the Alhambra which was an ancient location with old buildings and a church. It killed me to leave Spain! I cried all the way coming back. Going to Spain taught me so much about the Spanish culture and all the factors that attributed to it. I learned so many surprising things about the culture. I also feel like we taught a lot of Spaniards about the American culture and got to disprove some negative stereotypes about Americans. I actually want to be a group leader in the future. Our group leaders Amytza and Ryan were the best!! They were so great that they inspired me to be a group leader. EIL is a program that I recommend for everyone because it is so educational and fun! Just always remember to keep an open mind and to not be afraid to step out of your comfort zone.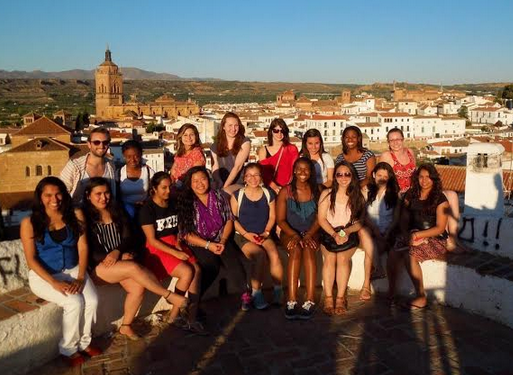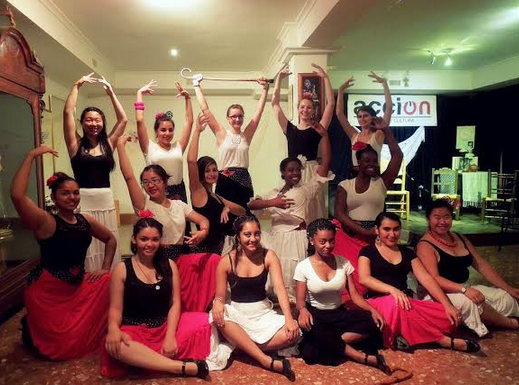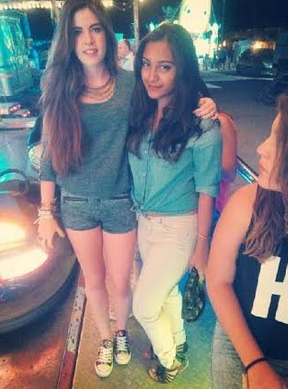 July 30
Amazing first week in Spain!!!
My first week in Spain was absolutely amazing! We visited Madrid for 3 days and got to explore several art museums. We also walked around the city for a scavenger hunt and photo challenge, allowing us to see even more what a beautiful city Madrid is. We got to witness a glimpse of gay pride as Madrid was preparing for its Gay Pride Weekend. We tried tapas and had plenty of conversations with native Spaniards. Our group had plenty of bonding activities during our orientation in Madrid and had plenty of fun! The photo shown is near the Reina Sofia Museum which was home to many modernist creations.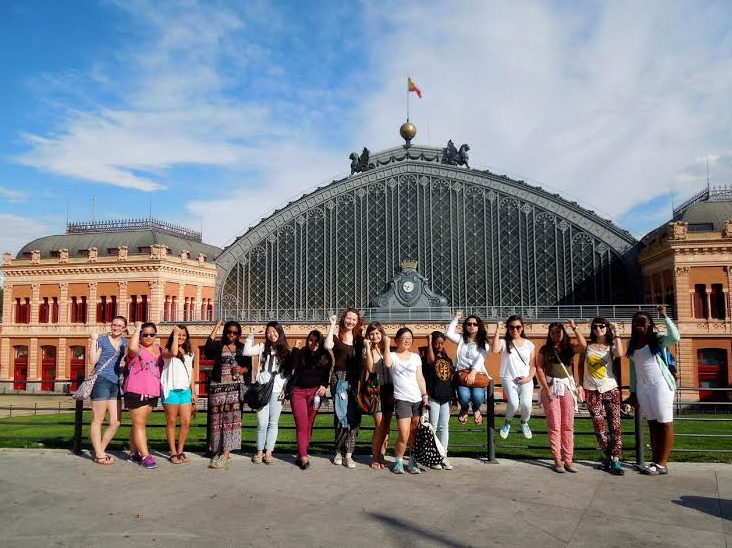 July 15
So excited to travel to Spain this summer!
  I am extremely excited to go to Spain this summer! This is a once in a lifetime experience; being able to do this at such a young age is equally amazing. When I go to Spain, I want to learn more about the Spanish culture and experience as much as I possibly can. I also want to practice my Spanish skills. I want to make it a goal to speak as much Spanish as I can, whether it is talking to the locals or having a conversation with my host family. While traveling to Spain is going to be such an amazing experience, I am still a little worried about being away from home. While I have traveled without my parents before, I have never been that far away from them. I know I meet great friends and people in Spain, but I am a bit afraid that I will get homesick. But, I know that I will have such a fun learning experience so I would not think about home. So, even though I will be far away from home, I know that I will have a blast in Spain!
June 20
Thank you
Thank you so much for your support and generosity. Without your kindness and support, I would not be able to travel to Spain this summer. Traveling and learning more about the world are some of my biggest passions and being able to travel to Spain with all of your help is such an honor. Because of your donations, I am able to learn more about different cultures and understand the world on a deeper level. Thank you for helping me dwell deeper into some of my greatest passions.
Success!
Mr. Routhier helped Amy raise $7,460
June 20
Experiment in International Living
donated $4,710
June 18
Mitch Brenner
donated $100
June 14
An Anonymous Donor matched this donation with $100 Mr. Routhier
started this campaign
May 29
Amy
was accepted into Wishbone!
January 20
Successfully funded on June 20th, 2014!
Fully funded!
Still want to help?
Donate directly to Wishbone so we can help more students like Amy.
Donate to Wishbone
Donors
| | | |
| --- | --- | --- |
| | Experiment in International Living | $4,710 |
| | Anonymous | $2,550 |
| | Anonymous | $100 |
| | Mitch Brenner | $100 |
Special Thanks
Scholarship Provider

Experiment in International Living

Matching Donor

Anonymous